Name
MOWA – Friends of Polish Language Association
(registration number: 1931007998)
 Goals
The goals of the association are:
promoting the Polish language, supporting learning and active usage of the Polish language among association members and their families,
promoting Polish scientific and cultural heritage (including literature and art),
creating an exchange platform on multilingual education for members, their families and friends,
strengthening relations with Poland among the second generation of Polish migrants.
More information in our statute (in German).
Association Board
Ph.D. Eng.
Joanna Chimiak-Opoka
chairperson
co-founder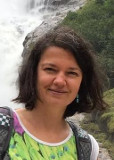 M.Sc.
Agnieszka Sysło
treasurer
co-founder
Contact
E-Mail address: kontakt@mowa… (with the full name of the domain)
Information
The site of the association is mainly in Polish and contains the following content:
Fasolki 

–

 gatherings of families with Polish roots,
Pszczółki 

–

 excursions and workshops for Polish-speaking children,
Chrząszcz 

–

 pupils' magazine in Polish,
Mole – polish book orders, library with polish children books,
Information for Polish migrants, a.o. integration hints.